On any day designated to honor our military, like Veterans Day, the following ritual best captures and does justice to the moment.
CROSSROADS-Right Choices
Sentinels of the Tomb of the Unknown Soldier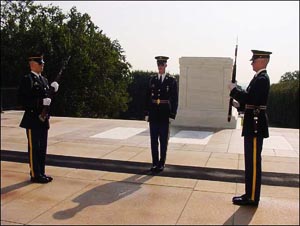 The Tomb of the Unknown Soldier is guarded 24 hours a day, 365 days a year, and in any weather by Tomb Guard sentinels. Sentinels, all volunteers, are considered to be the best of the elite 3rd U.S. Infantry Regiment (The Old Guard), headquartered at Fort Myer, Va.
After members of the 3rd U.S. Infantry Regiment become ceremonially qualified, they are eligible to volunteer for duty as sentinels at the Tomb. If accepted, they are assigned to Company E of The Old Guard. Each soldier must be in superb physical condition, possess an unblemished military record and be between 5 feet, 10 inches and 6 feet, 4 inches tall for males or 5 feet, 8 inches and 6 feet, 2 inches tall for females with a proportionate weight and build. An interview and a two-week trial to determine a volunteer's capability to…
View original post 466 more words